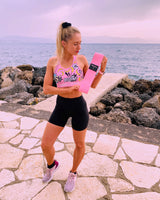 About us
Hello beautiful people, we are Rêver Rose (which means to Dream Pink in french). We're a small London based fitness business who love the colour pink, being active, and reaching new heights. We wanted to achieve three key things when we created our resistance bands; excellent quality, at an affordable price, whilst being the prettiest bands around.
At Rever Rose, we believe that everyone should aspire to have a healthy and active lifestyle. The healthy part is having plenty of sleep and fueling our bodies with everything that is good and a little of the not so good, its all about moderation right?! Then there's the active part, like taking part in team sports, gym classes, running and just about anything that gets you moving!
Along the way, we recognised that to reach your potential you need to have a strong foundation. Like all foundations, they start from the bottom up and in this case quite literally... our Rêver Rose Resistance bands will help to strengthen your glutes so that your foundation can support you to achieve your fitness goals.
Harnessing the power of social media we are actively posting on our Facebook and Instagram pages to provide you with lifestyle and fitness content. We want to be part of your journey so don't forget to tag us so we can keep up with your progress.  If you have any specific questions, get in touch and our in house PT will be happy to help! We hope you love your bands as much as we do!
R.R x