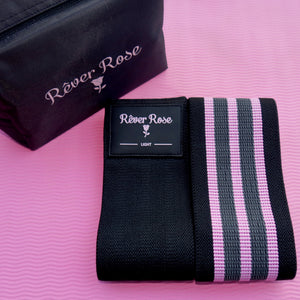 Light Resistance Band (Black). Includes a pouch and exercise guide with 6 of our favourite exercises. Free P&P within the UK.
What do they do? Our fabric resistance bands are designed to provide resistance against your legs as you perform specific movements that require abduction of the hip (moving your leg away from the body). This resistance is what will help activate your gluteus maximus and medius ensuring that all the necessary muscle groups are engaged during the movement. They are designed to target your glutes but secondary muscle groups such as the hamstrings, quadriceps and abdominals are also engaged.

What exercises can I do? Squats, Crab Walks, Glute Bridge, Kick Backs, Fire Hydrants, Kickbacks and more. Details on how to do these exercises are included in our guide PLUS if you need some more ideas head to our Instagram or Facebook.

Material - Durable high quality stretch fabric cotton with anti-slip latex rings on the inside of the band to provide grip and to ensure that they don't slip.

Size - 14x3inch. Our fabric thick bands are all made to the same length but resistance is added to the material to increase the difficulty. 

Which is best for me? There are three levels to choose from: Light, Medium and Heavy. For individuals who are starting on their fitness journey, you may wish to start with a lighter band and as you get stronger, progress on to medium and heavy.

Returns - Due to hygiene reasons, we do not offer returns, although if you are not happy with your order, please contact us within 30 days of receiving your order.

What is included - If your gym bag is anything like ours it can get a little busy, so we created a pouch that will fit all three fabric resistance bands (it will fit your mobile phone in too). You will also receive a mini exercise guide which details 6 of our favourite exercises and will receive free post and packaging within the UK.
If you have any questions contact us at hello@reverrose.com.